Seoul Semiconductor Introduces World's Smallest 24W DC LED Drivers at LIGHTFAIR International 2017
October 31,2017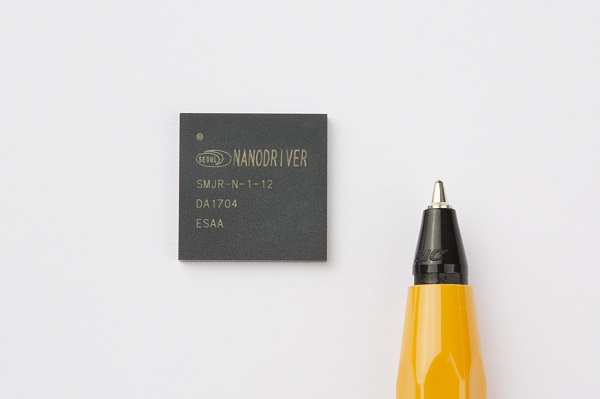 (Soeul Semiconductor/LEDinside)
Seoul Semiconductor, a leading global innovator of LED products and technology, has developed the industry's smallest phase-cut DC LED driver series, with a power density 10X higher than conventional LED drivers. The NanoDriver Series is the world's smallest miniature converter at just 13.5mm wide, and is available in four versions rated for 16W and 24W output power for operating LED lighting with input power of 120V or 230V (50 – 60Hz), and can be driven by AC or DC power supplies. Manufactured with Seoul Semiconductor's original Acrich technology, the NanoDriver Series features an IC directly attached to the substrate, dramatically reducing the size of the converter.

"The new NanoDriver Series will be a game-changer for lighting designers by enabling them to reduce the size, weight and volume of their light fixtures," explained Keith Hopwood, executive vice-president at Seoul Semiconductor. "This breakthrough in size reduction for the NanoDriver Series is the result of the company's continuing investment in high voltage LED technology, combined with a unique power topology that results in smaller size, increased efficiency and lower costs."

In the future, Seoul Semiconductor will also launch the MicroDriver Series high performance drivers for LED lighting fixtures from 900 to 2400 lumens. The MicroDriver Series is designed with a miniature package that reduces the size of the converter by more than 10X to enable the integration of the control circuitry with the external driver, making it possible to mount more light sources on the board, or reduce the size of the board.

The NanoDriver Series requires few external components, and delivers 16W or 24W of output power in a package just 13.5mm x 13.5mm x 1.42mm. These drivers are ideal for downlight, flush mount, track and spotlight fixtures. Their small size enables ultra-thin and novel fixture designs in wall sconces, making conventional lamp replacement possible without the need for a large volume recess for the driver, or a reduction in the light output.

The resulting decrease in the LED drivers' physical size has significant business implications for the lighting industry, giving lighting designers the ability to shrink the size of light fixtures by as much as 20%, which reduces shipping and storage costs. Because conventional LED drivers are both heavy and bulky, they are typically shipped via sea freight from manufacturers in Asia to European and North American fixture companies, with transit times up to six weeks. The NanoDriver Series are small and lightweight enough to make airfreight practical and economical, reducing transit time and making the overall supply chain more flexible and responsive.
The NanoDriver Series is available in four models rated for output power of 16W and 24W, for LED assemblies operating at input voltages of 120V or 230V (50 – 60Hz). The drivers have typical efficiencies of 85% and power factor correction (PFC) of <0.9, and are rated for inrush current of <300mA, with an over-temperature protection feature that limits the LED current at temperatures above 160°C. Operating temperature range is -40° to +70°C (ambient) and -20° to +85°C (at TC point).
The drivers are UL recognized, provide flicker-free, low ripple current operation for phase-cut dimmers, and are compliant to California Title 24, enabling lighting designers to meet the most challenging design requirements, including low flicker, high power factor, Class B EMI and 2kV surge.
Source:LEDinside
If you need more information about silicon carbide,please visit: www.siliconcarbidewafer.com or
send us email at angel.ye@powerwaywafer.com or powerwaymaterial@gmail.com.