Panasonic Showcases X-GaN Gate Driver at PCIM Europe 2016
Panasonic Showcases X-GaN Gate Driver at PCIM Europe 2016
Panasonic Automotive & Industrial Systems Europe showcased its technology lineup for PCIM (Power Conversion Intelligent Motion) 2016, which took place May 10 - 12 in Nuremberg, Germany. At Stand 429 in Hall 6 the company highlighted industry-leading innovations -- including passive components, semiconductors and thermal management solutions -- that provide increased efficiency and reliability for a wide range of applications.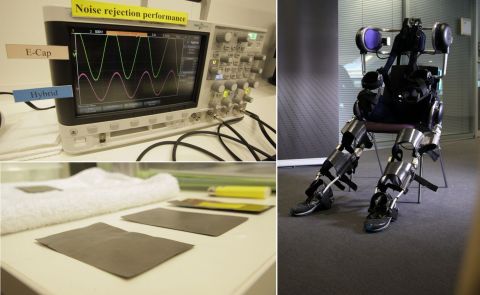 Panasonic's Power Innovations at PCIM 2016. (Panasonic/LEDinside)
X-GaN Gate Driver Enriches Panasonic's GaN Environment
As GaN moves from an innovative technology to mainstream production, Panasonic exhibits real and exciting applications that harness the power of their gallium nitride power transistors. The newly released X-GaN(TM) gate driver optimized for high frequency switching unlocks the full performance of the X-GaN transistor while keeping design efforts to a minimum. A fine control is possible (0.5% - 99.5% @ 50kHz). It benefits from built-in precise current source optimized for GiT transistors and built-in negative voltage source. The company also shows some GaN application examples: GaN-based compact power supply units and a GaN-based inverter for motors. Also a GaN evaluation environment, GaN power devices, power modules (GaN and SiC based), as well as a bidirectional AC/DC converter for power storage systems (SiC application example) features on the stand.
In addition, Panasonic presented its prototype of assist robots that applies X-GaN technologies at PCIM for the first time in Europe, to showcase one of its applications. Power assist suits for industrial use have been developed by Activelink Co., Ltd., one of Panasonic's in-house venture companies. Panasonic has applied inverter technologies of X-GaN to ActiveLink's assist suit equipped with motors that assist human body mechanics.
Keywords: Panasonic; GaN Gate Driver; PCIM Europe 2016
Source: ledinside