Moodify Night and Roadshows Illuminated in Indonesia
Osram unveiled its superior lighting products to over 150 influential lighting partners at the two roadshows and Moodify Night in Jakarta, Indonesia on August 3, 25 & 26 respectively. The meticulous lighting solutions, LEDTouch Downlight, Pursos Super High Power LED Flood Light and Media Tube HO RGBW were displayed during the events and demonstrated how the Osram Business Unit Lighting Solutions strives to bring pioneering and futuristic lighting technology to customers.
At the networking events, product managers from various customer solutions presented their stunning products and inspired the lighting designers, who participated in the lighting design in the upcoming 18thAsian Games 2018, on how the solutions can illuminate the sport grounds and stadiums glamorously in Jakarta, the host city of the remarkable sport event.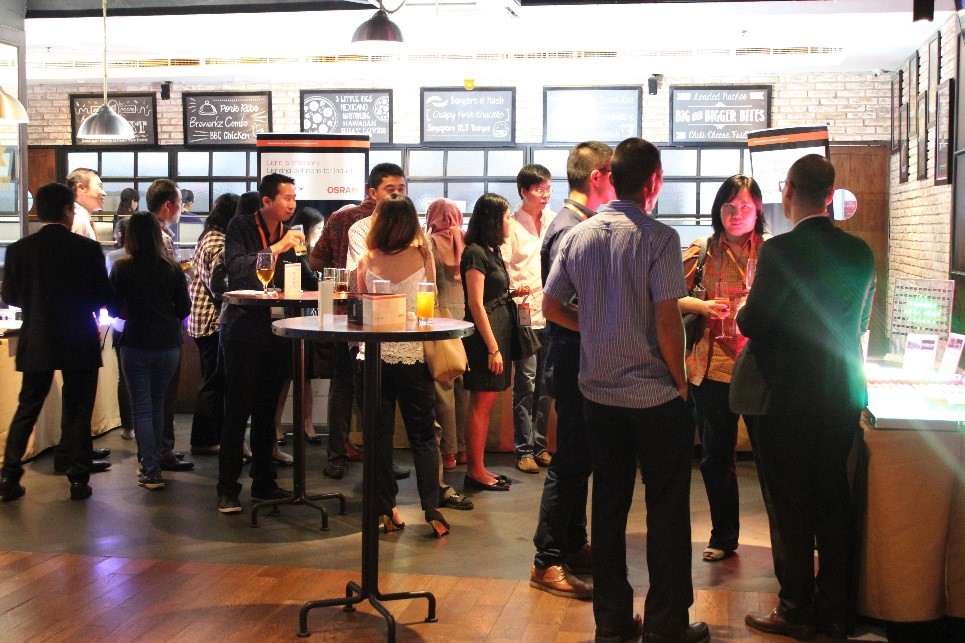 The guests are interacting with the product managers at the Moodify Night event. (Osram/LEDinside)
"Specifiers are among our most crucial partners. The networking events are the great occasion to interact with them and reveal our capabilities. We hope our guests can gain inspirations and come up with some innovative ideas by experiencing our leading-edge lighting fixtures. I am looking forward to organizing more events like this in the future," was how Piroj Rojmahamongkol, Chief Executive Officer of Osram Pte Indonesia summarized these events.
The sustainable and reliable products, LEDTouch Downlight, Pursos SHP LED Flood Light and Media Tube HO RGBW were on display during the event. LEDTouch Downlight is the epitome of sophistication with superlative lighting performance and high lumen output for indoor applications. Pursos Super High Power LED Flood Light is an incredibly durable luminaire with special optical design that is ideal for outdoor applications. Media Tube HO RGBW is a sleek and intelligent media façade solution that offers both RGB and true white display in a single system, providing superior performance while remaining energy efficient simultaneously.
Keywords: Osram; Traxon; LED Luminaires; Indonesia; Lighting Project
Source: ledinside