Lighting Science Launches Commercial LED Grow Lights
LED trailblazer Lighting Science® is pleased to debut theVividGroTM line, another innovative series of commercial LED lighting solutions from the industry leader. Tailored to the agricultural and horticultural markets, this state-of-the-art product line distinguishes itself from its industry peers due to its use of spectrally-optimized photosynthetically active radiation (PAR) delivery, which has been proven to support increased plant growth, development and yield. VividGro is suitable for both commercial growers and do-it-yourself horticulturalists and is assured to be a game changer in emerging markets, such as the burgeoning pharmaceutical marijuana industry. These commercial LED solutions are highly adaptable to both urban and agricultural environments, including greenhouses of any scale.
VividGro is designed to go above and beyond current industry technology. Created by the same engineering team that helped develop the next-generation LED lights used to grow plants at the U.S. scientific station in Antarctica and on the International Space Station, VividGro is a complete, energy-efficient and spectrally enhanced LED grow solution. Designed to maximize photosynthetic efficiency for healthy plant growth and provide vivid color saturation, the innovative technology uses at least 40% less energy than standard high-pressure sodium (HPS) lighting. The real news is the incredible yield improvement, which means a higher return on investment for growers.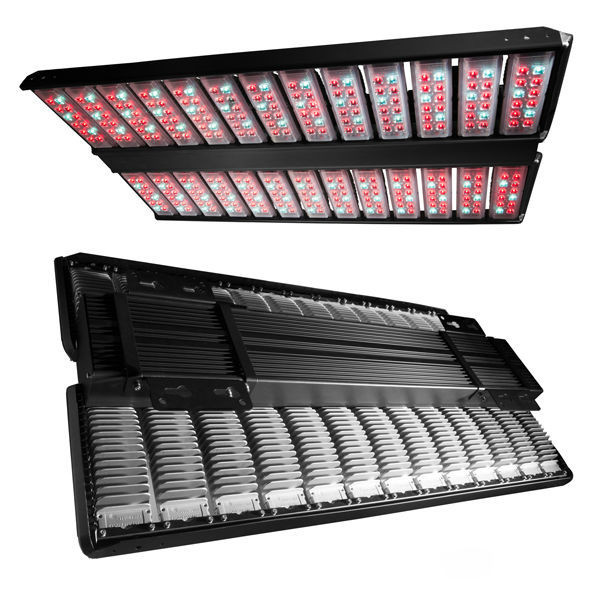 Lighting Science Group's new VividGRO V2 Grow Fixture. (Lighting Science/LEDinside)
VividGro's performance-engineered, broad color spectrum can significantly stimulate plant growth while drastically reducing energy consumption by utilizing specific lighting wavelengths of 350 and 660 nanometers. These LED products have a rated life of 60,000 hours (L70), far longer than conventional HPS or other HID lamps, and are more energy efficient, using only 588W, compared to the 1000W used by standard HPS fixtures. VividGro's unique design delivers optimal photosynthetically active radiation of 1081 umol/sec at center beam and fixture efficiency at 1.838 umol/J. The products are "instant on", can be cycled to maximize healthy plant growth and employ passive cooling, making them completely silent. They are IP65 rated for safe operation in wet and damp environments and are backed by a 5-year limited warranty to ensure trouble free performance.
"Plant growth and nutrient value is driven by photosynthesis, and spectrum-optimized LEDs offer an unrivaled source of photosynthetically-active radiation that's used to fuel plant cultivation and propagation. The nurturing of plants in an indoor environment, supported by LED light, helps to control many of the elements influencing the growth of the plant," said Fred Maxik, founder and Chief Technology Officer at Lighting Science. "As the urban population centers continue to grow and higher demand is placed on growth of specific plants, such as in the cannabis industry, indoor horticulture will demand more quality, energy efficient lighting. With our VividGro technology, the spectral output of the light can be tuned for a particular species of plant, to deliver optimal plant growth and energy efficiencies."
VividGro solutions are available from Lighting Science in a single bulb (Par38) or as a fixture. For more information, Lighting Science invites you to visit our newly launched website at www.vividgro.com for a more detailed explanation of the product and the cutting edge technology behind it.
Keywords: Lighting Science; LED luminaires; LED Grow Lights; commercial lights; Niche Markets
Source: ledinside